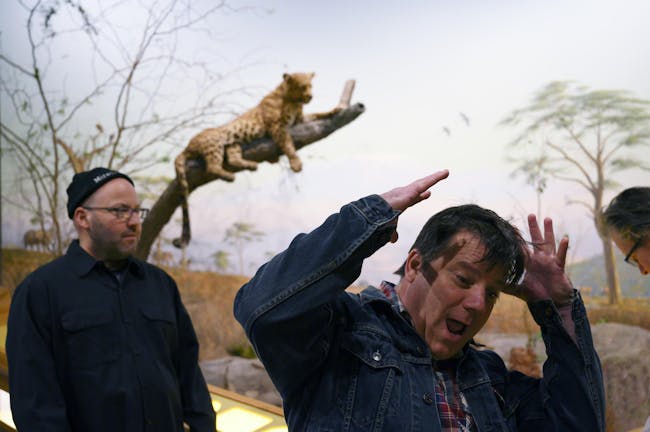 Polaris (from "The Adventures of Pete & Pete")
Disheveled Cuss
Polaris (from "The Adventures of Pete & Pete") at The Chapel
$20 adv / $22 door
Polaris was a one-off musical project in the mid-1990s involving members of the New Haven indie rock band Miracle Legion. Mark Mulcahy, Spot "Scott" Boutier, and Dave McCaffrey performed music for the Nickelodeon television show The Adventures of Pete & Pete under the name Polaris.
Polaris performed many of the songs featured on the show, including the theme song, "Hey Sandy", and its members took "TV names": Mulcahy was "Muggy", Boutier was "Jersey", and McCaffrey was "Harris Polaris." In addition to appearing in the opening credits of each show, the band featured prominently in the episode "A Hard Day's Pete", in which Little Pete (Danny Tamberelli) is mesmerized by a garage band's song (Polaris' "Summerbaby") and forms his own band to keep the tune in his memory.
Music from The Adventures of Pete & Pete, released in 1999 on Mulcahy's Mezzotint label, contains many of the songs Polaris recorded for the show and is the group's only album release.
Spot "Scott" Boutier and Dave McCaffrey also played drums & bass for Frank Black and the Catholics.
Disheveled Cuss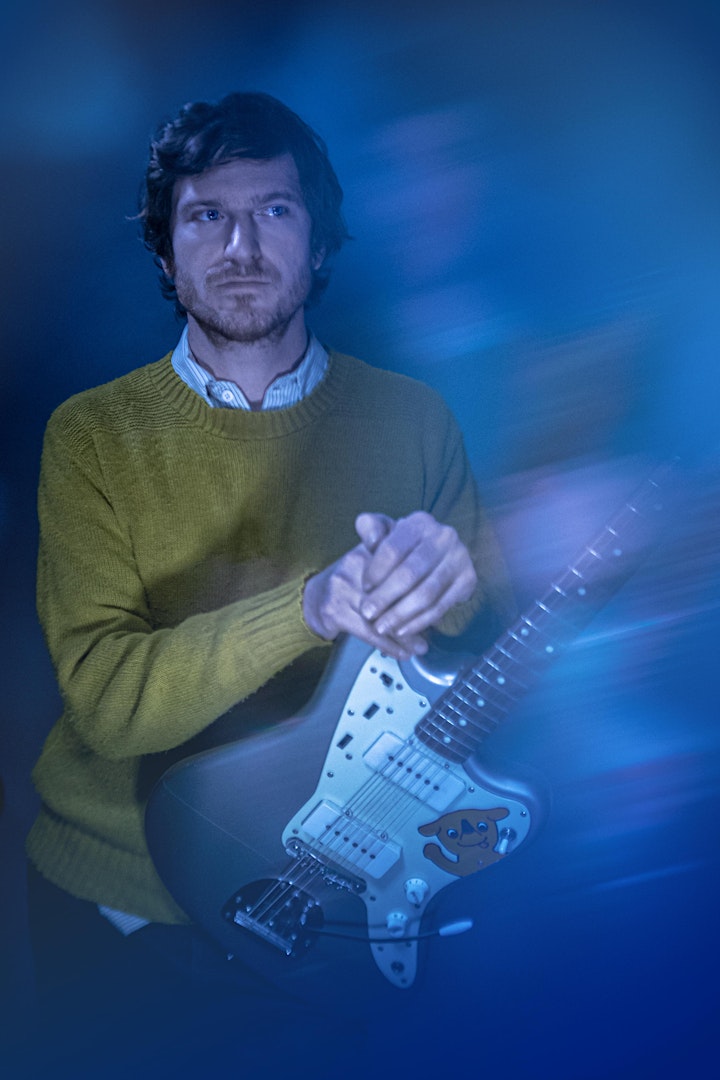 Disheveled Cuss, singer/guitarist Nick Reinhart's self-titled debut album under that moniker, is like a welcome time capsule from another era, a trip through 90's-inspired pop/rock on par with any of the timeless and lauded milestones the decade produced. Nick's coming of musical age in an era when the Pixies, Teenage Fanclub and Smashing Pumpkins were major features on the cultural landscape is writ large across Disheveled Cuss. Their respective presences, and others, populate the sonic DNA of the songs, emerging here and there like new snapshots of old friends.

"Playing music like this is satisfying in a very different way than what I'm used to," Nick explains. "It's a rock band playing 'normal' songs and in many ways, that's the least normal thing I've done." It seems only fitting, then, that the most relatable of topics, love – attraction, obsession, rejection, etc. – plays a central role on Disheveled Cuss. Brokenhearted, perhaps, Nick has crafted a work of poignant exuberance, a melancholy rock classic masquerading as an artifact from his youth. Which isn't to say Nick's taking himself any more seriously than he has previously, with many songs betraying a tongue-in-cheek attitude that's familiar to those who know him as the frontman of cult favorites, Tera Melos. If he isn't casting doubt on his own ambitions, he's likely painting an idiosyncratic portrait of something (or someone) peculiar, or sublime.

Possessing standards that have kept the bar high over Tera Melos' four albums of genre-bending, post-everything rock, Nick has quietly emerged as a unique, technically-minded player whose talent seems in direct proportion to his modesty. A rare combination of punk energy, crafty and inventive melodies, and oblique vocal harmonies that often feel as though they're leaking into your mind from someone else's dream, Tera Melos mine the kind of varied territory unlimited proficiency can offer. Pathologically inventive and yet tastefully self-aware, theirs is music that indulges the listener, rather than the band.

Keeping pace with the trio for the past decade and a half, meanwhile, have been Nick's forays into everything from hardcore to experimental jazz. His versatility and eagerness to collaborate are evidenced not only by ongoing contributions to groups as disparate as Best Coast, Death Grips and Portugal. The Man, but by his membership in Big Walnuts Yonder, alongside legendary players such as Mike Watt, Nels Cline, and Deerhoof drummer, Greg Saunier. Whistle-stop projects, such as Bygones with drummer Zach Hill, suggest a need to strip things back to basics now and again, however momentarily. Stoking the wizardry in recent years, no doubt, has been his role as co-host of Pedals and Effects, a video blog for gadgetheads that finds Nick talking shop and jamming with The Mars Volta's bassist, Juan Alderete.

Disheveled Cuss opens with "Generic Song About You", with Nick lamenting: "So sick about it, never should have said hello / Now I'm lost without ya, can't even find the phone," ironically, over a classic riff which feels as though it's synthesizing an entire era in music. Familiar territory hasn't felt this fresh in ages.

Heartache is apparent on the jostling second track, "She Don't Want", dressed with doubled vocals that serve the song (and many others) in a timeless, dreamlike fashion, not unlike that of Brian Wilson's songbook. Punctuated as it is by flashes of six-string histrionics and Nick's falsetto, this more than any other song on the record, recalls the kind of music he's known for, though not for long.

First single, "Wanna Be My Friend" is, too, an exercise in irony and contradiction. Nick has a clever way with words; self-admonishment this time gives way to a sing-along chorus delivering the album's most unforgettable earworm. Handclaps notwithstanding, the ominous refrain, "You'll pay the price for it, again…" exposes the song as a haunting mantra to self-improvement, albeit cloaked in a propellant, nuanced blast of verse-chorus-verse. "Nu Complication" winds the relationship clock forward (or backward?), addressing the awkward realization of having been replaced. "She's Odd", consequently, comes as a welcome breath of lightheartedness ripped straight from the Weezer playbook. "She walks cooler than all of the black top," is without doubt one of Nick's most evocative lyrics.

Next is "Fawn," a bittersweet amble recalling Dinosaur Jr. and Sonic Youth, a meditation on futility and disillusionment, or perhaps just life and loss. "Without the sounds you breathe, I'm nothing," he sighs in an endearing, transparent moment of vulnerability. Closing side one, the song culminates with a very nineties flourish, the found recording, though something about this voicemail feels very personal and elevates the emotional stakes to great effect.

Side two begins with the urgent rhythm of "Oh My God," its sun-fried irony ("Oh my god, how am I so fucked?") diving headlong into layered cacophony, only to emerge unscathed. "Oh my god, what a righteous hook," Nick declares, almost earnestly. The sleepy "Don't Paint the Sun," on the other hand, takes a more machine-like approach to its low-octane grind. "Heat / Looks good on you / Sweat on me," he implores, apparently at ease with the situation in which he now finds himself. "Shut Up" is an infectious slice of irony, a pop jingle with muscle, like something the Dead Milkmen would have written or Hüsker Dü would have played.

The album winds down with two of its more impressionistic tracks. "Sun Land" coasts in to home, a passing glimpse of surrealist suburban desolation, while slow-burning closer, "Surf-101," rekindles a final blast of grunge-era bombast, closing the album with an uplifting surge of what feels like hope.

Disheveled Cuss is an accomplished new turn and an exciting indicator of things to come from Nick Reinhart. In an era when internet singles and EPs from underdeveloped artists come and go with little to distinguish them, it's a reminder of the cathartic release that experiencing the arc of a great album offers, made all the more enjoyable by the familiarity of Nick's presence.

https://www.facebook.com/disheveledcuss/

Venue Information:
The Chapel
777 Valencia St

San Francisco, CA, 94110